Photo Credits: Sakuyahime Project – http://sakuyahime.jp
"I dream of visiting Japan, but it must be expensive there…"
Such a stereotype may be true in certain circumstances – and indeed, some places can be more enjoyable with greater budget allowance. But fear not! It would be an absolute mistake to give up your trip to Japan. For the truth is that Japan today offers an unimaginable bargain both for foreign tourists and business people.
The TSO team is often asked by foreign entrepreneurs how to start business. We also advise our friends on how to enjoy trips in Japan on a shoestring. Here we share these tips to help you save on food, transportation, accommodation, sightseeing, and souvenirs. To make it simple, let's assume an exchange rate of $1 = 120 yen, though the yen is getting weaker.
Japan: a country with great bargains
The reason for the surprising affordability of Japan is not just the weaker yen. Not only foreigners, but also many Japanese are discovering new ways to enjoy everyday life on the cheap. Although Abenomics has brought a respite from the prolonged deflationary recession, many services compete with one another to cater to Japanese who can afford less than before. As the domestic market is shrinking in line with demographic decline combined with rapid aging, companies are not only venturing outward, but also catering their services to foreigners in Japan. Indeed, the whole of Japan welcomes foreign guests with open arms.
Tokyo is particularly bustling with foreign visitors on treasure-hunting missions – including Asian group-shoppers in Ginza or Akihabra, as well as investors not only from the West, but also from the Middle East and Asia who are on shopping sprees for prime real estate.
Food
Food and transportation expenses tend to be the heaviest burden. But with our tips it is possible to enjoy tasty Japanese meals and spend no more than 1,500 yen ($12.5) per day – sometimes even 1,000 ($8.33) is enough. Always follow Japanese students and young professionals who know where to find decent, affordable franchised restaurants and local restaurants.
In Hanamaru Udon, the simplest small bowl of noodle udon costs as little as 130 yen ($1.08) – and the big serving costs 330 yen ($2.75). It may not satisfy a huge appetite, but a combination meal for 600 yen ($5) would definitely drive anyone's hunger away. If you want to try slurping up soba noodle standing in a restaurant like the locals, Fujisoba offers the simplest soba noodle for 270 yen ($2.25) and the larger meat and noodle soba for 470 yen ($3.92), along with various topping options. A bowl of Gyudon beef with a salad come as a set for 400 yen ($3.33) in Yoshinoya. Try ramen noodle at Hidakaya for 390 yen ($3.25). And don't miss gyoza dumplings for 220 yen ($1.83) and chahan/yakimeshi (fried rice) for 450 yen ($3.75).
The famed conveyor-belt sushi of Sushiro and other franchise bars charge you 100 yen ($0.83) for a pair of nigiri unless you go for luxurious toppings. A good choice for mingling with locals. Make sure to pile up your empty dishes on your own table, not on the piles of your neighbors. They will end up paying for you!
A very Japanese salaryman-style experience can be enjoyed in the evening in the street pubs of Omoide-Yokocho in Shinjuku or franchised pub like Watami.
Local treats, snacks, and soft drinks can be bought in supermarkets. Though slightly pricier, convenience stores are excellent places to kill your hunger by taking a bit on onigiri rice ball or rolls stuffed with unique Japanese tastes . At the moment, an 8% consumption tax (VAT) is added. But even so, this can be even cheaper than eating out the whole day in your country.
Transportation
Luckily, flights to Japan are getting cheaper. Narita Airport opened a third terminal completely dedicated to low-cost carriers mainly for Asian visitors. If you choose the off-peak seasons like New Year's and summer vacation seasons, many cheap tickets are available from e.g., Turkish Airlines (from Europe) and Singapore Airlines (from the US West Coast).
Never get into a taxi just because you are so curious to see its automatic doors. Narita Airport is actually quite far from Tokyo, so take the Express train of Keisei Line that costs 1,280 yen ($10.7) to reach downtown Tokyo. Sure, Narita Express and Airport Limousine bus for around 3,000 yen ($25) are slightly more comfortable, but it takes about the same travel time.
From Haneda Airport, travel is shorter and cheaper – costing you 400-490 yen. If you can't wait to start sightseeing, buy a one-day combination ticket for 1,310 yen, which will take you anywhere with the elaborate Tokyo Metro network after you take the Keikyu Line from the airport to Sengakuji Station.
For sightseeing in Tokyo over your next days, make the most of the Tokyo Metro's 1-day open ticket for 600 yen.
There are two ways to cheaply travel around Japan. The first option is the budget overnight bus. With the Shinkansen, the trip from Tokyo to Kyoto or Osaka would normally cost you around 13,600 yen ($113). But the same trip can be made for 2,700 yen ($22.5) on an overnight bus with a restroom. Comfortably sleep on the bus and save accommodation cost. If you plan a long stay, Japan Railway Pass lets you ride most of the Shinkansen lines and all the trains of Japan Railways – and that covers all parts of Japan. The pass costing 29,110 yen ($243) for 7 days and 46,390 yen ($387) for 14 days must be bought in advance of your arrival to Japan.
Good news for families. Kids travel for half-fare on most public transportations.
Accommodation
Japanese capsule hotels are now famous, but they are still considered cramped and uncomfortable. Actually, a stay for a night or two is fun and comfortable, worth trying for 2,000-4,000 yen. Reservations are much cheaper through Japanese websites (example).
It is not very difficult to find business hotels offering Wi-Fi connections for 2,500 yen if you know a bit of Japanese. Foreigner-friendly business hotels are also affordable, like 3,600 yen per night at Kangaroo Hotel.
For families, a private apartment room is a way to save accommodation costs. Roomorama and other similar sites offer rooms for $20-50 per night. Crazy as it may seem, some travelers rent one base like this and enjoy day trips to different parts of Japan using their Japan Railway Pass and the Shinkansen.
Trusting young travelers participate in home exchange or enjoy Japanese country life as Whoofers.
Sightseeing
The best thing is to have a local friend who will gladly show you around. But there are similarly hospitable groups of volunteer tour guides throughout Japan. They find joy in communicating and making friends with foreigners. They will tell you about special spots usually visited only by locals, allowing you to experience Japan more deeply. Of course, let's remember to reciprocate their kindness by covering their entrance fees and inviting them for lunch and dinner.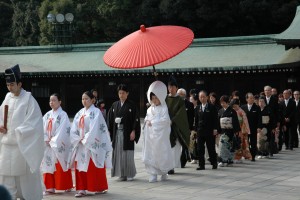 Independent-minded travelers can also enjoy many spots for free. In Tokyo one of the best places is definitely Meiji-jingumae Station on the Tokyo Metro. In the Meiji Shrine you will see a Shinto-style wedding almost every 15 minutes during weekends. Interestingly, the shrine right nearby the youth-culture pilgrimage site called Harajuku and the fancy shopping street of Omotesando. The young also flock in the nearby Yoyogi Park, a fun place to have a picnic with a Japanese obento lunch box.
(Photo Credits: Goro Kuroita)
Trying out a multi-functional massage chair in Shinjuku or playing with a high-tech toilet in Akihabara are definitely fun. But, we recommend you visit Tsukiji's fish market in the early morning. Though paid it is, if you need to take a shower after an overnight trip on a bus, try a Japanese public bath called sento, which is definitely a cultural experience you want to share with your friends.
Souvenirs
Traditional souvenirs from Kyoto, Asakusa, or the Oriental Bazaar in Omotesando are all-time favorites. But connoisseurs also remember to buy sharp ceramic knives, vacuum flasks, Heat-Tech (heat-generating underwear by UNIQLO), as well as high-tech lavatory seats called Washlet and rice cookers designed for use back in your home country.
Never miss 100-yen shops either. You may associate your local dollar shop with poor quality. But, please believe us, many foreign fans ask us to buy souvenirs from these Japanese dollar shops locally called hyakkin. Some even have three or four storeys, like the sort of Daiso on Takeshita Street of Harajuku. These neatly designed practical products, from kitchenware, food, and cloth, to electronic products like watches and mobile phone chargers, are mostly tagged at 100 yen ($0.83). These items are in fact made in China or other parts of Asia, yet they satisfy demanding customers both from abroad and Japan alike. In fact, it is not rare to note that more than half the customers on the same floor are foreigners. Buying one special gift for a special person is a lovely choice. Buying 100 neat gifts to 100 friends is also a nice way to share your memories of Japan.
Don't miss out on a bargain!
I hope we have convinced you that being thrifty never means being petty and having no fun in Japan. The secret is to know where to save money wisely and where to make the most of it. Even on a limited budget, you'll be able to have great fun and discover Japanese beauty off the beaten trail.
Through our rental offices TSO supports mainly foreign entrepreneurs in starting up their businesses in Japan. We will regularly post useful information, hoping that as many people as possible will discover the charm and potential of Japan. See you again on this blog – or better yet, here in Japan!