[2F Floor Plan] 5 booths, copying space, resting space and separate bathrooms for women and men

[3F Floor Plan] 8 booths, meeting space and bathroom for men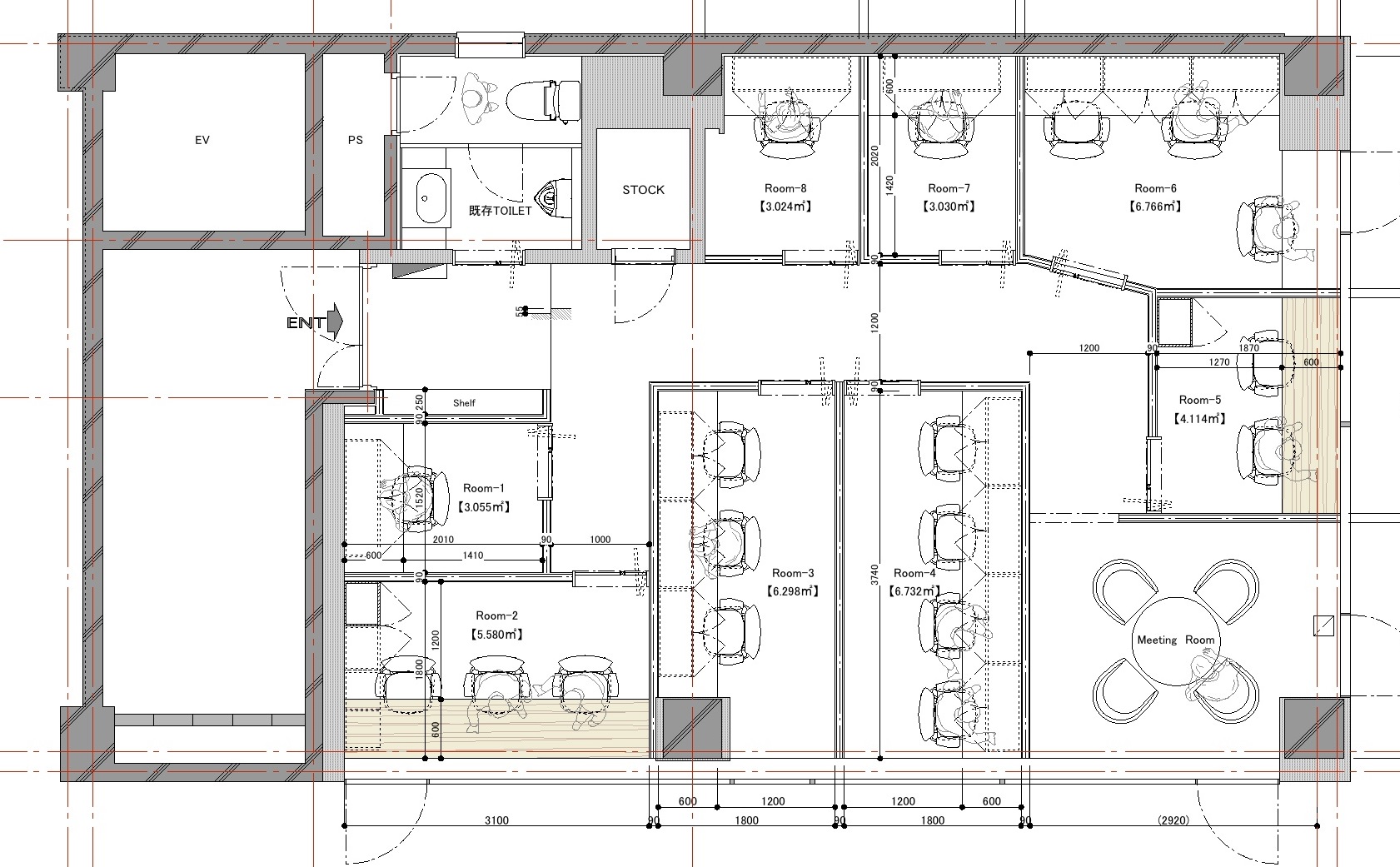 Management Policy
Tokyo Synergy Office offers an ideal business environment for those who see other users on the same floor as fellow co-creators rather than as business competitors.
Users are requested to use their floor in a spirit of mutual respect, keeping in mind that one's own office space is the office space of others, too.
We will foster beneficial exchange by making the unique face of each user (company profile including industry) more visible to those who are sharing the same floor.
(Example 1: Company name will be posted for each booth.)
(Example 2: The bifold door installed in each booth gives the user an option to leave it open during the work.)
(Example 3: An open design was adopted for the meeting room on the third floor. Without any bureaucratic and computerized reservation system, we uphold the good-old face-to-face approach for timely and flexible adjustment of meeting times among users.)
(Example 4: If you find yourself at an impasse, the resting space on the second floor with an internet connection and power supply also provides you with an open and casual environment for creative co-working with fellow users.
Other services offered by Tokyo Synergy Office
1. You may register your company with our office. But you are requested to transfer the registered office once you end your membership with us.
2. While it is possible for users to independently order a telephone line from NTT, we recommend that users take advantage of our existing VoIP phone system and the phone number beginning with 03, just like the area code of other stationary phone numbers in Tokyo. It is enough to sign an agreement with our provider and pay the telephone charge. No installation fee is involved. The basic charge will be less than ordering a telephone line from NTT.
3. The common-use copying machine can be used as a printer by installing the driver software. Scanned files can be saved directly into your USB pen drive.
4. Regular clean-up service – cleaning of the table, vacuuming of the floor, and trash collection – is provided twice or three times a week.
5. Each member company can place their brochures and product samples in the designated space at the entrance on the third floor, which is an effective way to promote your company.
6. Security is ensured by access control with card keys and security camera that maintains a record for the previous month.

---
 View of the booth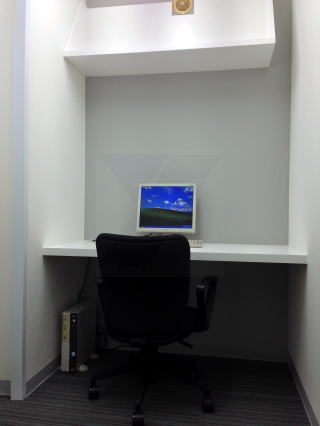 Each booth is equipped with a black chair as shown in the sample photo.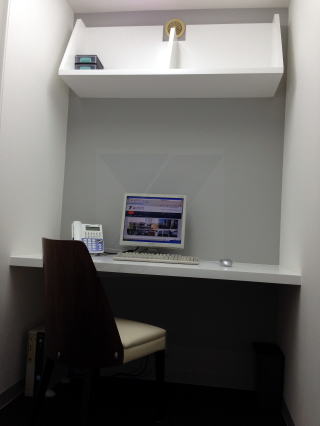 Depending on your preference, you may bring in a chair of your choice.
In order to use the Basix VoIP phone service that we recommend, you need to buy a VoIP phone as shown above. This service offers you a phone number beginning with the Tokyo area code "03" , and an inexpensive call rate to America(as low as JPY 5/min). The Basix phone can be used as an extension phone and enables you to call other Tokyo Synergy Office members for free.

---
The Concept and Advantage of Tokyo Synergy Office
3.3m2 is enough

Surprisingly or not, large companies allocate no more than 3.3 m2 for the desk and private working space of each employee. The remaining spaces (such as restrooms and copying space) are shared among the employees.
Practically speaking, one person just needs 3.3 m2 (1 tsubo in Japanese) and 2 persons need slightly more than 4.4 m2 to work effectively. The internal dimension of the booths in our Tokyo Synergy Office is at least 3.0 m2.

Internet connection

The internet has long been a mainstay of business infrastructure. So do not lag behind in your business by wasting time in signing a contract with an internet provider after renting an office. Simply rent an office with an internet-ready environment!

Desk, chair, and storage space

When starting up a company alone, the last thing you want to do is waste your energy and money on moving or buying furniture and equipment. You can start using a desk, chair, and storage space from Day 1 when you move into Tokyo Synergy Office. Choose a furnished office and minimize the cost of moving in and moving out of the office. We would like to see you fly high with little hassle in moving about.

Build your network with proactive communication

The small team of a start-up company faces various types of uncertainties. At times, a word with fellow entrepreneurs with similar experience is invaluable. Tokyo Synergy Office invites aspiring entrepreneurs who are ever eager to do things better. The network you gain with fellow entrepreneurs from various industrial backgrounds at Tokyo Synergy Office will prove to be a valuable asset. We encourage you to take advantage of the opportunity to engage in exchanges in the meeting room and the resting space in order to make the most of synergy, so long as the discussion does not bother others. If you find yourself at an impasse while working in your booth, you are welcome to move to a more open environment in the resting space or meeting space. Just make sure to communicate with your fellows to make the space available for others if someone needs to hold a meeting there.

Ordering supplies and cleaning are time-consuming

At Tokyo Synergy Office you can focus on your work without having to worry about the supply of copying paper, toilet paper, and cleaning detergent, as well as cleaning the office and the many other distracting jobs that you would normally have to do by yourself when you rent an office alone.

Host your guests in the refined meeting space and resting space

It is certainly the cheapest to start a home office. Still, greater trust is given to a company with an office at the heart of the Tokyo Metropolis.

 

Besides, not many entrepreneurs would like to bring their work home. In addition to the small cost for establishing your office presence, Tokyo energy Office provides you with a respectable space where you can confidently invite your clients.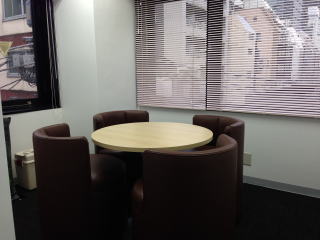 Meeting room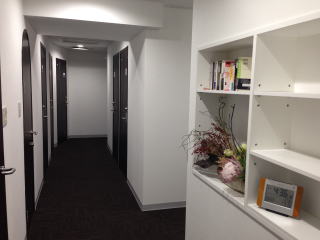 Entrance